Smithwick tribunal: Belfast Telegraph, 27 July 2011
A retired detective Garda sergeant who said an MI5 agent was "unreliable" and "a spacer" has told the Smithwick tribunal that the man he was talking about was not Peter Keeley, the British agent also known as "Kevin Fulton".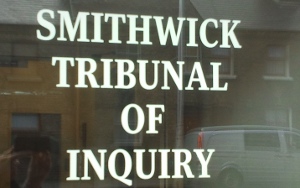 Mr Tom Fox clarified his evidence from last Friday when he was shown a photograph of Mr Keeley at the tribunal.
The image, taken from a website on the internet, was supplied to the tribunal by lawyers representing Belfast republican Mr Freddy Scappaticci.
"I can confirm to you that I never saw that man in my life," Mr Fox told the inquiry.
The ex-detective said the man he had referred to in his evidence was a Mr McCann, who he had believed was also Mr Keeley. Inquiries at the local social welfare office in Dundalk after Mr McCann left the area had revealed that no person of that name was signing on, he said, although Mr McCann had been seen regularly at the office.
Mr Fox also said a man known as "Mooch" Blair was well-known to Gardai in Dundalk.
Mr Neil Rafferty on behalf of Mr Keeley said Mr Blair was "a well-known subversive", and his client often drove Mr Blair in Dundalk.
In response to a question from Mr Jim O'Callaghan, representing retired detective sergeant Owen Corrigan, Mr Rafferty said his client's real name was Peter Keeley, and this was the name he operated under while working as a British agent for MI5.
The lawyer said that "Kevin Fulton" was a pseudonym invented by a journalist when Mr Keeley gave interviews about the Omagh bombing and allegations that Mr Corrigan was an IRA "mole".
Mr Corrigan has described the allegation as a "monstrous lie".
The tribunal is examining claims of garda collusion in the deaths of RUC chief superintendent Harry Breen and superintendent Bob Buchanan as they returned from a meeting in Dundalk garda station on 20 March 1989.
Two garda witnesses gave evidence that RUC superintendent Bob Buchanan had called to border Garda stations during the course of his duties.
Retired sergeant Ray Roche said that when Mr Buchanan called to the Hackballscross station, he "told him as diplomatically as he could" to leave, as he was endangering both his own and Garda lives by his presence.
Mr Larry Withrow said than on an occasion when Mr Buchanan had called to Dromad and parked his car in front of the station, he had asked to have the car moved to the back of the station out of public view.
But Mr Withrow said the RUC officer declined to do so.
Retired assistant commissioner Edward O'Dea was sent to Dundalk in the days following the murder of the two RUC officers to investigate how the meeting was set up and who knew about it.
In the report, Mr O'Dea concluded that no leak about the meeting came from within An Garda Siochana, but he also said that his instructions when he was sent to Dundalk by commissioner Eugene Crowley did not include investigating the possibility of a leak.
Mr O'Dea he said there was "no way" former detective sergeant Owen Corrigan would tip off the IRA, adding "I have no doubt in my mind as to his loyalty to the force."
A "covering report" sent by Garda commissioner Eugene Crowley to the department of justice on 18 April 1989 said that "there is a consensus in both forces that the RUC officers were targeted when leaving Armagh or en route and followed to Dundalk."
"That's the first time I've seen it," Mr O'Dea said.
The tribunal resumes in September.