Smithwick tribunal
An RUC officer murdered on his way back from a Garda meeting in Dundalk would have stayed at home that day to tend to his sick wife had his deputy not been on leave, the Smithwick tribunal heard.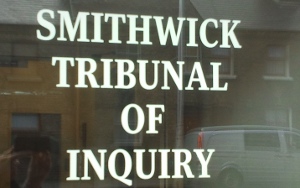 The statement from Mrs June Breen recounting the events in the last week of her husband's life were read into the record at the tribunal by barrister Justin Dillon SC.
Chief superintendent Harry Breen and superintendent Bob Buchanan were killed in an IRA ambush yards north of the border as they returned from a meeting in Dundalk Garda station on 20 March 1989.
Mrs Breen remembered 20 March 1989 as "a dark, wintry day". He husband left home shortly after 8am, and telephoned her after midday.
When she first heard a radio news report that two men had been shot near Jonesboro as she prepared dinner, she mistakenly thought they were IRA men, and thought to herself "you are sone mother's son but you are trying to kill army or policemen." Two hours later, two RUC officers called with the bad news.
Mrs Breen also confirmed that RUC chief constable Sir John Hermon was asked not to come to her husband's funeral, as this instruction had been given to her by her husband on several occasions.
The chief constable did attend the funeral of Bob Buchanan, but not that of Harry Breen.
Later, the tribunal heard from retired Garda chief superintendent Bernard King, who was in charge of the Cavan-Monaghan division at the time.
King said he was concerned about the number and visibility of visits Bob Buchanan made to border Garda stations and spoke to him, following which the frequency declined.
He said he was not aware of any allegations of a Garda mole in Dundalk, and had not been told of any concerns by the RUC officers.
And he said his border superintendent Tom Curran had not passed on to him a report about a Garda mole from Buchanan, or a report that Buchanan was on an IRA "hit list".
Curran in his evidence said he had gone directly to Garda headquarters with the report of a Garda mole because he felt copies of intelligence reports in the chief superintendent's offcer were "carelessly handled".
King said he didn't know what reports Mr Curran was referring to, and had moved confidential intelligence reports which were stored in the district office into his own office to take personal control of them for safekeeping.
The tribunal spent the remainder of the day hearing evidence in private session, with the press and members of the public excluded. The Tribunals Act allows for private sessions when discussing matters relating to national security or which may prejudice pending legal proceedings.